`Customer experience (CX) is at a crossroads.
By 2020, it is expected to overtake price and product as a key differentiator between brands. While many companies have succeeded in the past by competing with creative offers, dazzling products, or lower prices--competitive forces continue to change the landscape. Companies are looking for new ways to outfox the competition.
Buyers have more power than ever. They are increasingly making buying decisions armed with more information than ever before and often skip the step of even speaking with a salesperson.
Once a customer hears the name of a business or a product, they enter a relationship with it. Everything from the company logo, its website, product descriptions, email newsletter, and much more determine the nature of that relationship.
If the customer isn't delighted and engaged by the experience, they'll go elsewhere.
As brands struggle to compete in a crowded market, they're looking to differentiate themselves through CX. Brands are chasing the profitability of personalization when it comes to customer experience. By 2025, Accenture estimates a potential value of $2.95 trillion for companies that can offer optimal digital experiences to consumers.
This is where digital experience management (DXM) comes in. DXM helps companies align channels, manage content, and keep their digital house in order to support the best possible customer experience.
Companies want their customers shopping instead of simply buying. They want the entire shopping experience to be memorable while giving them data on what's working (and what's not) at every step in the process.
Here we dive into the critical difference between traditional content management and digital experience management—and the potential the latter holds for companies willing to embrace these new trends.
The Difference Between CMS And DXP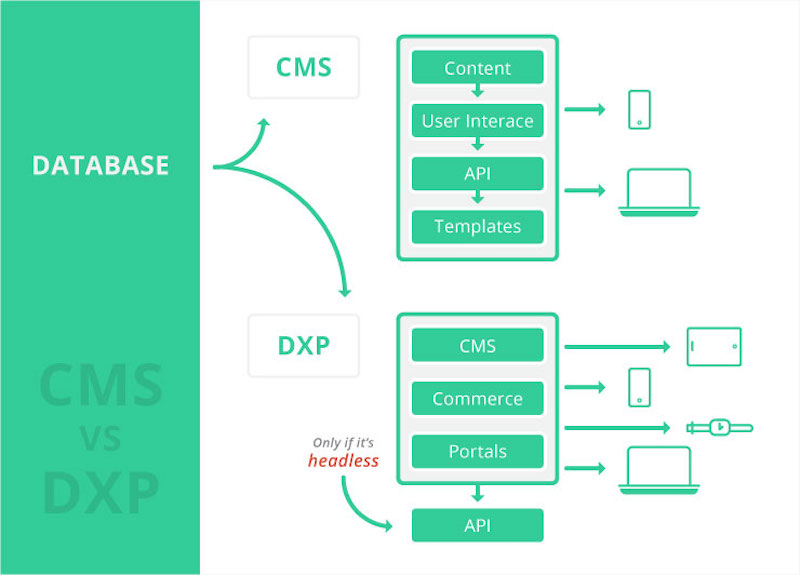 When it comes to digital experience management, we've come a long way.
A traditional CMS allows you to manage versions and set up workflows that keep big, global sites consistent. This legacy, however, is dying a slow death.
The next step was web experience management (WEM). With the growth of digital as a significant facet of brands and new channels popping up all the time, collaboration across departments (to share digital information) became critical as WEM came into being.
WEM allowed for personalization based on specific rules and gave brands the ability to observe user behavior, define personas, and deliver customized content to targeted audiences. This enabled companies to share content, data, and logic across channels consistently—thereby enhancing the online experience for consumers. Enter the Digital Experience Platform (DXP).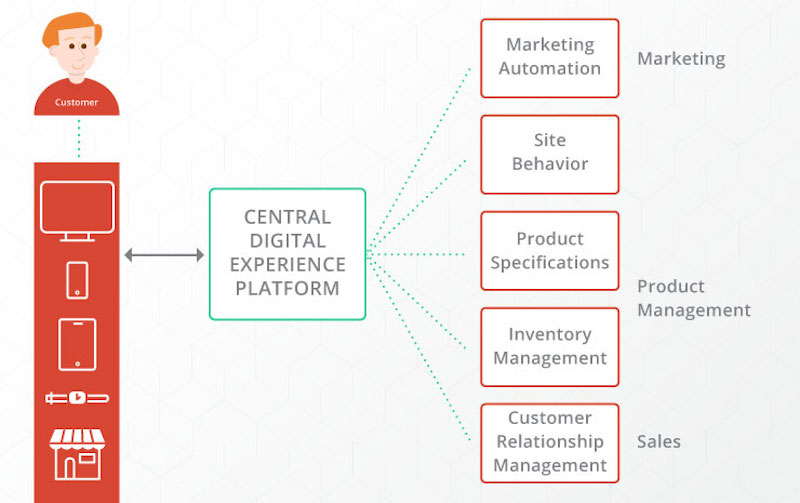 It's become clear that digital experience is about more than just getting customers in the door. DX is about growing customer loyalty and enhancing customer satisfaction at all stages of the buying process.
The experiences that companies were trying to share with customers expanded beyond content and the web. Brands wanted to share many types of digital assets across multiple touchpoints (billboards, customer portals, e-commerce platforms, in-store, etc.). As such, the digital journey expanded significantly as larger numbers of back-end applications began to be used by different departments to handle their unique piece of the customer journey.
To maintain a consistent customer experience from acquisition to loyalty, it's imperative that businesses integrate with their back-end systems. The digital experience expanded from just being in the hands of the marketing department. It quickly became the responsibility of the entire business.
The rise of agile, intelligent, and open DXP came from both internal and customer-facing needs for a consistent, connected digital experience. From CMS and WEM to DXP, all of these systems are looking to enhance the interaction between customers and brands while meeting the needs of both parties.
Digital experience platforms come with some inherent advantages that brands are leveraging:
Enables brands to focus on behaviors and personas
Empowers companies to understand customers at the most granular levels
Helps businesses center the experience model to drive bottom-line performance
Through DXP, companies realize the economic benefits of contextual personalization. A 2017 survey from Segment on content personalization demonstrated this clearly:
More Impulse Purchases: Nearly half (49%) of customers bought products they did not initially intend to buy due to a personalized recommendation.
Increased Revenue: 40% of customers purchased more expensive items because of personalized service.
Less Loss: 85% of customers were happy with their (impulse) purchases, and only 0.5% of these impulse purchase were returned.
Increased Customer Loyalty: 44% of customers say they will shop again after a personalized shopping experience.
Such data makes the promise of leveraging a powerful DXP crystal clear for companies willing to jump into the fray.
Improving Customer Digital Experiences Using A Digital Experience Platform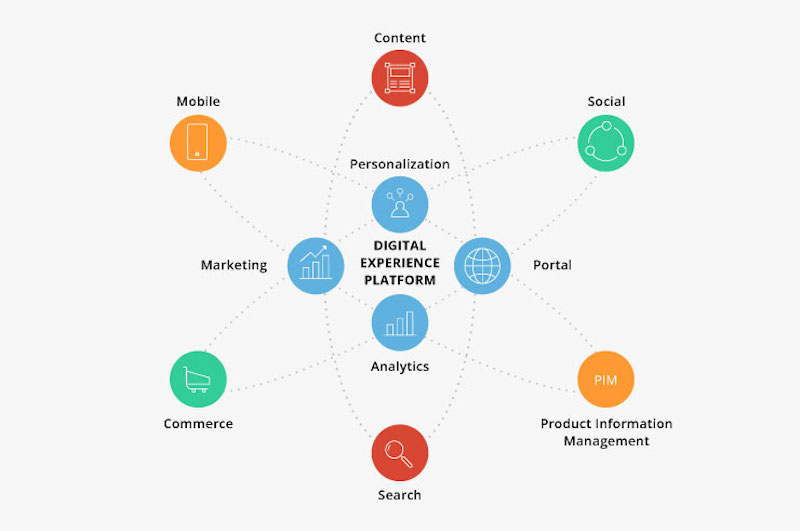 Customers are searching for seamless digital experiences that lead to purchases they value.
Your digital experience platform is what gets them there.
A good DXP will provide your brand with actionable insights (through diving into customer journeys) by connecting internal systems with all of your digital channels. With a powerful DXP, you're better able to match experiences to user needs, become more customer-oriented, connect to other top digital solutions, and optimize content usage.
In short, smart use of a DXP allows your content investments to yield better results.
As you improve your digital experience management, give Contentstack's headless CMS a try, risk-free. It's a powerful solution for powering your brand's next-generation digital experience platform.