In our post-pandemic world, consumer expectations for ecommerce are shifting rapidly. Customers are demanding a high level of access and digitization, and the majority believe the experience a brand provides is just as important as the products they sell.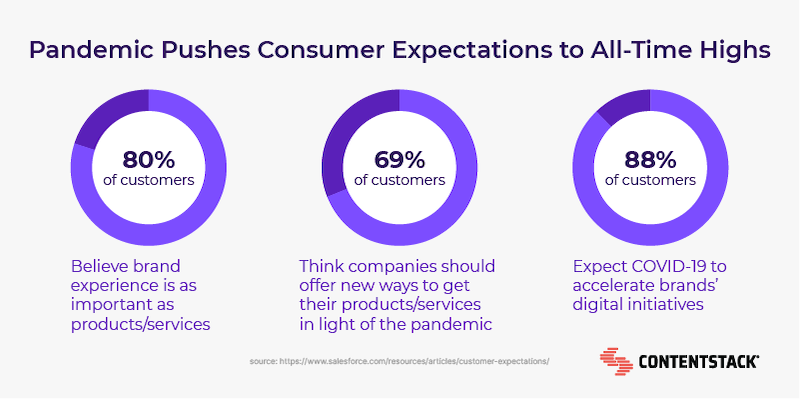 What does this mean?
That it's not just enough for enterprise ecommerce organizations to pivot away from outdated digital experiences — they must also develop the omnichannel content management capabilities necessary to deliver accurate, personalized, and speedy interactions.
Creating a modern commerce strategy means brands need technology that caters to shoppers at every stage of their journey, not just the shopping cart. As a recent report from Gartner Research, Composable Commerce Must Be Adopted for the Future of Applications, puts it:
"A growing reality for digitally mature organizations is that digital commerce does not stand alone and should no longer be a monolithic silo of engagement. This goes beyond consistency across channels to mean a unified end-to-end customer journey, including engagement and post sales relationships and support. The simplicity of the 'e-commerce' go-to-market is being challenged via requirements that go beyond the traditional core buying journey."
If your brand is among the many that are eager to modernize the experience, but are hesitant about the time and cost of ecommerce transformation, starting with a headless content and search solution is a way to see immediate results without undertaking an exhausting replatforming project.
The Problem: Your Traditional Ecommerce Solution Is Keeping You from Moving with the Market
Your brand has likely already seen a shift in client expectations.
But despite cranking out more content, adding more products, and maybe even reducing prices — you just can't seem to gain the traction you need.
Giving your customers more to choose from is great, but with unlimited choice at their fingertips, what online shoppers really need from your brand is help discovering the products and content that are perfect for them.
Modern consumers want an immersive, omnichannel ecommerce experience that delivers the just-right content at the just-right time, whether they're starting a transaction via smart speaker or completing it via smartphone.
The problem is, the monolithic ecommerce tools many brands work with simply cannot support these kinds of interactions. Traditional suites are inflexible and struggle to merge content marketing, merchandising, and product catalog information to deliver a modern shopping experience. And trying to force them to do so often requires an awfully expensive duct tape project — one that is likely to bust your budget and risk downtimes that could lose millions in sales.
Ecommerce teams don't have the luxury of pausing business to revamp their technology, and they need a solution that provides the freedom to transform the experience without a major replatform.
The Solution: Quickly Upgrade Your Shopping Experience with Headless Content and AI Search
A recent movement among technology leaders is helping brands ramp up engaging commerce experiences without having to replace their core transactional engine.
That movement is MACH — a term that describes technology that is microservice based, API-first, cloud-native, and headless. By layering a MACH-first headless content management system (CMS) and product discovery engine over your existing technology, you can quickly provide a modern, content-driven ecommerce experience that your customers will love.
Contentstack and Constructor, both certified vendors in the MACH Alliance, are joining forces to showcase just how quickly brands can create value with a modern content and commerce experience. The collaborative proof-of-concept project combines Contentstack's agile, headless CMS with Constructor's AI-driven eCommerce search to offer highly engaging, personalized product discovery.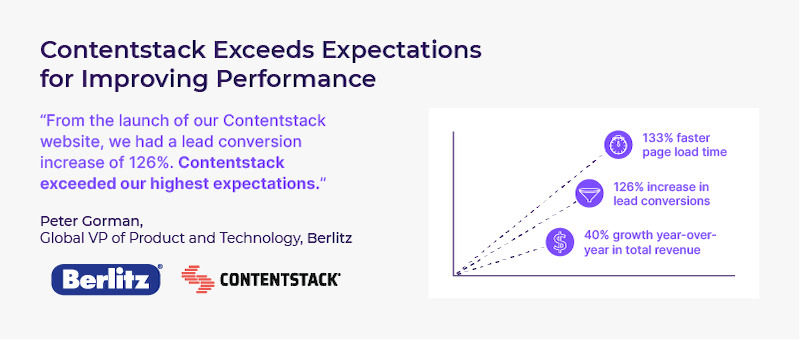 "When somebody searches for pants, your goal is not just to come back with a pair of pants. You want to show the pants that are most attractive to that particular person at that particular time," says Eli Finkelshteyn, Founder and CEO of Constructor. "That's more than basic relevance or keyword matching, it's really understanding the user, the products, and the search context in a way that isn't possible with the legacy platforms that were invented before AI really took off."
Together, Contentstack and Constructor create content and ecommerce workflows that empower cross-functional teams to launch cohesive, personalized, and omnichannel campaigns that convert leads into life-long brand evangelists.
And the best part about this pairing is how easy it is to integrate it into your current ecommerce platform without breaking the bank or your developers' backs.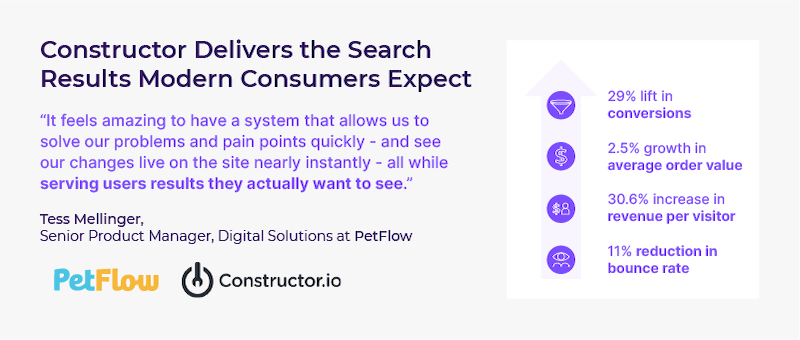 How to Update Your Content Architecture to Create Modern Ecommerce Experiences
If you're ready to inject more value into the shopping experience and start exploring new revenue channels today, this three-step approach can help you move off your outdated monolith and toward a flexible MACH experience:
1. Integrate an Agile Headless CMS
There's no room for unplanned downtime in ecommerce. Which is why Contentstack — with the highest enterprise customer satisfaction ratings in the CMS industry — makes it easy to adopt a headless CMS in a matter of weeks, not months.
Integrating a headless CMS into your tech stack and migrating over your content marketing campaigns is the first step in decoupling functionality and frontend, so you can immediately get started on new customer-facing experiences with no risk to critical backend systems.
2. Get Started with "Search and Merch"
Now that your modern content architecture is in place, you can easily integrate a MACH search and merchandising platform such as Constructor.
This combination allows you to create an experience that blends products and content together, uses AI-driven search to deliver the most attractive information on any channel, and guides shoppers through unlimited choice to the items that are perfect for them.
"When you look at the search experience of the new world it's going to look much more like a magazine. You'll have content embedded together with the product search results." says Constructor's Eli Finkelshteyn. Search can be liberated from the traditional grid style and blend results in different combinations, sizes, and formats. "It's a much more visually pleasing array that also takes into account all of the different things that a company has to offer."
3. Create Your Rich Content
Powering ecommerce with content marketing means teams will need to create a decent amount of high-quality, well-organized content. Developing rich content — which includes videos, infographics, and even other media like podcasts and webinars — gives your consumers more to engage with and your smart content delivery tools more resources with which to create customized experiences.
This is why it's key for brands to choose tools that make it easy for merchandisers, editors, and developers to quickly, and autonomously, create and manage content.
Build a Cutting-edge Ecommerce Experience with Constructor + Contentstack's Omnichannel Content Management System
The Gartner Research report on composable commerce states, "Digital commerce platforms are experiencing ongoing modularization in a cloud-native, multi experience world. Application leaders responsible for digital commerce should prepare for a 'composable' approach using packaged business capabilities to move toward future-proof digital commerce experiences."
You don't have to go all-in on an expensive and time-consuming replatforming project to build a cutting-edge ecommerce experience — you can use flexible MACH tools to migrate to composable, omnichannel systems at your own pace.
Enjoy a free trial or demo of Contentstack today to see how Contentstack makes this migration achievable and how you can integrate headless content with Constructor's intelligent search to start building impactful, content-powered ecommerce experiences that will drive greater revenue for your company.