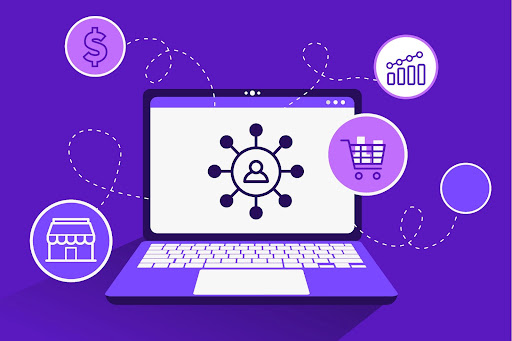 While impulse buying still exists, gone are the days when retailers can rely on a single channel — be it their brick-and-mortar store or company website — to sell products or services.
In 2021 and beyond, an omnichannel shopping path is becoming the norm. Today, it's not as simple as a shopper landing on your website, navigating to and buying a product and becoming a lifetime customer from that moment on. Instead, retailers have to be prepared for more complex journeys across a variety of digital and physical channels, such as researching on your website before buying a product in-store and later seeking out customer support over social media.
While it's typical for businesses to use these shopping and communication channels individually, it's much harder to create an omnichannel experience in which many channels work together to create a seamless, personalized journey for each consumer.
However, that doesn't mean it's impossible — which is excellent news considering all the benefits that an omnichannel experience can provide.
Allow us to walk you through what the omnichannel experience looks like, data-backed benefits that will help you understand why the investment in omnichannel is worth it, and how you can get started when you're ready to set up your own omnichannel experience.
What Is an Omnichannel Experience?
Channels are all the places where consumers interact with a business. They may include where products and services are sold (website, physical store), how they're advertised (email, direct mail, social media) and the devices used to find them (desktop, tablet, smartphone).
For businesses, providing effective omnichannel experiences means collating consumer data, using this information to develop highly relevant content and delivering this content at the best time, in the best format, on the best channels for that consumer.
This creates smooth, personalized shopping journeys that help increase revenue and retention in a time of extreme competition.
The omnichannel experience puts the consumer at the heart of the action is a powerful improvement upon multi-channel engagement, which revolves around the product instead of the person.
These outdated experiences are hallmarked by their only capability — bombarding consumers with static, impersonal, out-of-place content that does more to drive them away than to entice them to interact with your brand.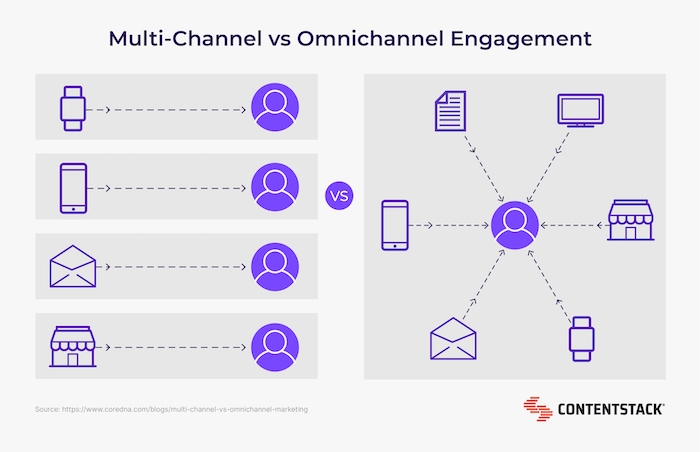 13 Data-Backed Omnichannel Benefits for Modern Businesses
A Salesforce report found that 67% of customers use several channels to complete their purchases. In fact, 40% of customers won't do business with companies if they can't use the channels with which they're the most comfortable.
The demand for omnichannel experiences is real, and the benefits of going omnichannel are just as real:
Marketing campaigns with three or more channels generate 90% higher retention rates than single-channel campaigns.
Harvard Business Review found that omnichannel customers make 23% more trips back to a retailer's store than single-channel shoppers.
The average order value (AOV) for a single-channel campaign is $58.70 while the AOV for an omnichannel campaign is 13% higher at $66.31.
For the 2021 holiday season, 65% of consumers say they'll spend as much if not more than they did in 2020. Half say they plan to shop online more than in previous years and a similar percentage will use more omnichannel shopping options, such as buying online and picking up in-store.
Digital sales at Target grew by almost $10 billion in 2020, thanks to a 235% increase in usage of omnichannel same-day services like curbside pickup, buy-online-pick-up-in-store and same-day delivery from local stores.
Customers who give a business a high experience rating spend 140% more on average at that business — and keep shopping there for as many as six years.
Marketing campaigns using three or more channels generate a purchase rate of over 12% – almost 300% higher than their single-channel counterparts that bring in a purchase rate near 3%.

Harvard Business Review also found that omnichannel shoppers spend 10% more online and 4% more in-store than their single-channel counterparts, and every additional channel customers use corresponds to more money spent in-store.
Single-channel campaigns only earn a 5.4% average engagement rate, but with a campaign with three or more channels that number jumps to nearly 19%.
Omnichannel shoppers are more likely to recommend their favorite retailer to friends and family than single-channel shoppers are.
According to Think with Google, 70% of shoppers say it's still important for them to be able to shop in person.
Shoppers who visit a Sephora store within 24 hours of visiting the website are three times more likely to complete a purchase and spend 13% more than other customers.
RetailWire's BrainTrust members believe omnichannel services like buy online and pick up in-store are here to stay thanks to COVID-19 forcing many retailers to finally "get in the game" — and consumers loving it.
Where to Start Your Omnichannel Journey
As you can see, there's a lot to gain from building omnichannel experiences for your consumers.
However, Digital Marketing Maturity Benchmarks 2021 by Smart Insights and BrightTALK found that only 37% of companies have implemented an omnichannel marketing strategy to meet the demand.
The disconnect is because the content management system (CMS) platforms many marketing departments use aren't up to the task of implementing content-powered omnichannel experiences.
The traditional, monolithic CMS tools that were once cutting edge can only service a limited number of channels and employees at any given time. It's expensive, time-consuming and risky to add new technologies to these old-school platforms.
That's why the answer to reaping omnichannel benefits lies in a modern, agile, MACH headless CMS.
"MACH" stands for microservices-based, API-connected, cloud-native and headless. A modern, agile headless CMS built using MACH principles lets businesses manage every channel from a single, unified hub.
The headless architecture separates content creation from content distribution. This allows marketers to create content that powers omnichannel experiences while developers build out delivery systems, without interfering with one another.
Robust integration capabilities also offer smart analytics, personalization tools and other helpful services so businesses can deliver omnichannel experiences via chatbot, in-store kiosk, email campaigns and more.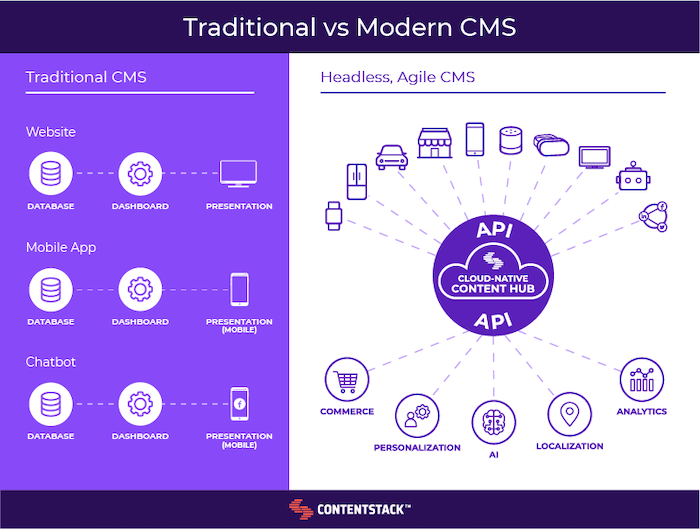 The opportunities for omnichannel benefits are practically boundless, but you'll only get as far as your CMS can take you. To work with a headless, agile CMS that's uniquely devoted to the success of its users, connect with Contentstack today to get a free trial or personalized walk-through.